Jan, 17, 2014
Comments Off

on Tips for a Successful Office Painting Project
We tend to be in the office most of time, sometimes even more than we do in our homes.  Still, our offices serve as another home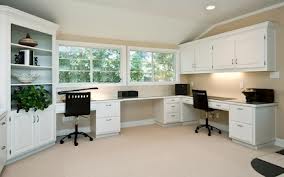 where we can chat, dine with our friends, and even find comfort in the most stressing time of the day.
An office should be inspiring and inviting to those working there and to the clients as well. An easy way to come up with this outcome is through painting. When on an office painting project, you should be guided by the following tips:
Ensure that you have chosen the most appropriate colour for the office
Neutral colours such as white and cream will be more appropriate for any office space. If you have a tiny office, white will bring out an illusion of more space.
Blue is also a very good choice especially if you are painting big office spaces. The right shades of blue with a combination of grey may bring the needed transformation in the office.
It is also important to consider the if your organization has theme colours, and include them during the painting
Work with everyone using the offices
Painting an office should never be a single person's affair. Rather, every employee should take part by suggesting the colours that they would prefer for the space
Be cost effective
Painting an office means that you could be forced to work with a set budget from the beginning. This necessitates that you adopt a cost effective method. To do this, you should choose quality paint that will last long.
It is also very wise to consult the professional painters. They can guide you when it comes to estimating the amount of paint that you will need. They will also help you to make the perfect choice of colours, and the best quality of paint in the stores.
Painting an office is very exciting if it is done properly. If you follow the tips above, you should have a successful and a perfect office painting outcome in the ultimate end