Painters Woronora Heights NSW – Call Us Now and Get a Free Quote
Are you in search of trustworthy, reliable and fast painters in Woronora Heights? You should come to us, Woronora Heights painters,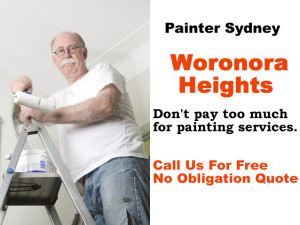 because we are the best in the region. Our painting team blends together with vast experience and innovativeness to give us a hedge on our competitors.
Almost all our painters have been doing this business for more than a decade and so as our client you should be confident that the results will be appealing to the eye and good value for your hard earned cash.
Being the experts in the painting business, we offer free consultation to our clients and potential clients where we give them advice on the shade, the brand and the color of paint that they should pick for their buildings.
Our Woronora Heights painters have all the licenses and certifications and we have also taken an insurance cover on our business. So, all our clients should rest assured that we will do a tremendous job and that their property is safe at our hands.
We offer a wide variety of painting jobs at Woronora Height painters. Some of the major jobs are;
Residential painting – exterior and interiors of the house, painting a new home, apartments, duplex.
Commercial sector where we paint shops and shopping malls with a decorative finish, texture finish, plaster repair and water roofing.
Interior and exterior decoration.
Wallpaper installation and removal.
Power washing.
Spray painting.
Epoxy floors.
We offer warranty to our clients to ensure that our customers are confident that our work will be quality and long term.
Our painting is done in accordance with all the health and safety regulations. Our Woronora Heights painters carry out green painting, in accordance with the environmental laws, by employing the use of environmental friendly paints and wash products that are also environmental friendly.