Painters Seaforth NSW – Call Us Now and Get a Free Quote
Are you in search of a painting company that takes customer satisfaction as the top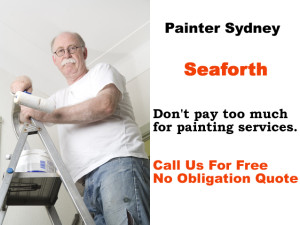 priority? Our friendly painters from Seaforth are absolutely the company that you should choose!
We are a company that guarantees superb craftsmanship through our group of craftsmen who are well trained and experienced in every aspect of painting, decorating and maintenance. The quality of our services makes the number of our repeat clients continually on the rise and we are looking forward to a higher loyal following. We earned this over the years of excellent service at the most reasonable cost.
Painters Seaforth can work day and night to bend according to our lifestyle and clients' time table. We do not want to cause major disruptions so we will do our best to finish the work in the fastest time and the least disturbance.
Our amazing Seaforth painters' array of services includes:
▪ Residential Painting: Painting new and old houses, renovated buildings or regular maintenance.
▪ Commercial Painting: Offices, shops, shopping centers, warehouses.
▪ Protective Painting: texture coating, spray painting
▪ Interior and exterior painting
▪ Drywall repair
▪ Wallpaper installation and removal
▪ Power washing
▪ Epoxy floors
▪ Spray painting
▪ Trim installation
▪ Deck staining/painting
▪ Faux painting
▪ Line marking
Seaforth painters pricing is also attractive which makes our services very affordable. So, if you are wishing to obtain a fresh look for your place, contact a painter from Seaforth now and avail of the most remarkable painting services at a low cost.
So, whether you need to paint your home or renovate the entire building, a painter from Seaforth is the perfect painting contractor that will put you first before anything else at the most affordable price! We work around the clock so that we can meet your needs fully. We cannot stop until we have done an outstanding and superb job beyond the normal standards.