Painters Penshurst NSW – Call Us Now and Get a Free Quote
With the ever-growing number of painters in your locality choosing the right one for your painting or decorating project can be quite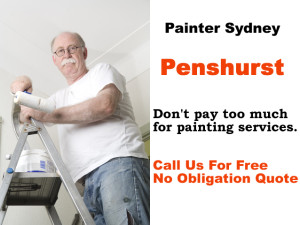 challenging! Our painters in Penshurst are the best in this area who offer their painting and decorating services without fail.
Our Penshurst painters have several years of delivering excellence in service and that is the reason why most clients keep coming back for repeat business. We have basically built a reputation that makes us the leaders in the industry round this area due to our good service delivery. We always ensure that all our clients' work has been done to completion within the stipulated timeframes by assigning some of our painters to work during night shifts and over the weekends. Our primary objective is to ensure that we do the best in doing our clients work from start to finfish without abandoning some clients on the way as other contractors do.
Our well trained painters have been screened to ascertain that we don't have individuals who have twisted backgrounds in our team. All this is in an effort to make sure that we don't expose our new and existing clients to potential danger! We use credible paint brands, tools and latest painting methods in service delivery at all times. Here are some of primary services that our Penshurst painters offer:
Residential
Spray painting and Pressure washing
Commercial coating
Drywall repair  and light carpentry
Interior and exterior painting
Epoxy painting and Trim molding
Strata and general sealing
Faux finishing
Regardless of whether you want to renovate an old building or just finished building a new construction and are looking for a painter, the fact is you have to choose wisely. Call Penshurst painters for the best quality of painting and decorating services that will make your new or old building look splendid.