Painters Oyster Bay NSW – Call Us Now and Get a Free Quote
It cannot be disputed that the house painting market has many contractor options to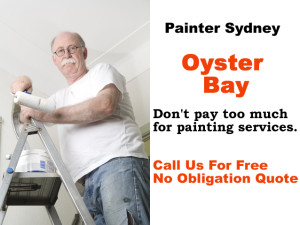 choose from. But if you knew that some people just turned into house painting because the business looked lucrative, you would understand why you should work with Oyster Bay painters.
Working with non-professionals can be a very painful and costly experience.  They may entice you with low rated prices but in the end, you will pay dearly in repairs soon after the job is concluded.
These painters from  Oyster Bay have many years in house painting business, capturing both corporate and individual projects. Our painters are highly trained and are equipped with the latest machinery for the trade making our services unmatchable. We also carry workers insurance in case of injury or accidents.
Our customer testimony is something that speaks in clear terms about our quality and professional services. We've helped our clients with invaluable information regarding house painting that also adds to our trust ratings.  Our greatest advice to clients is that it's possible to have really affordable painting services of top quality, but it all depends who is providing the services. Remember you can take a short cut and go for unprofessional low rate service, but the cost you might have to bear thereafter can make you feel like chewing metal!
When it comes to painting, there is always that aspect of conformity to the industry set regulation standards, especially when it comes to commercial building, and there lies the danger of working with a 'blind painter'.
Now you can count on Oyster Bay Painters because we understand the world of house painting like the back of our hand. We will give quality, longevity and creativity at the same time in your painting project. More importantly, you can trust us to begin and conclude your project on time.
Among Oyster Bay painters' various services are:
Repainting and maintenance of residential and commercial buildings
General wall, ceiling and floor paintings in kitchens, bathrooms, boutiques, studios and office
Wall removals and wallpaper installation
Epoxy floors
Line markings
Now, for your painting needs, contact skilled, certified and highly creative Oyster Bay painters and get a feel of top notch services.