Painters Oatley NSW – Call Us Now and Get a Free Quote
For many years, Oatley painters have offered perfect painting services to individuals,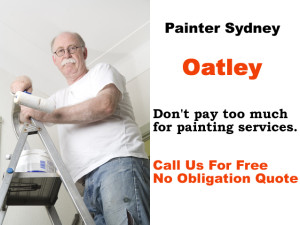 institutions and government organizations. Actually, all our clients have better reasons why they keep coming back to us with new projects.  The simple reason is that we are meticulous and trustworthy with our projects.
Customer satisfaction is the lifeblood that has put us a cut above the rest in this industry. Basically, we always aim to understand our clients' needs and deliver according to their expectations. Our overwhelming customer feedback is a clear pointer to their satisfaction.
It is a fact that many clients have been put through some sort of cat and mouse game with rogue constructors, sometimes having to pay through their noses for projects that wouldn't cost a fortune if worked on by trustworthy painters. Well, if you have gone through this, you can count on our  painters from Oatley to impress you.
We have licensed and professional painters who not only understand work ethics, but also aim to satisfy your taste by putting the finest touch in every surface they lay their hands on. Our Oatley painters also carry insurance cover which ensures that our clients are not worried about what might come in the unfortunate scenario of accident or injury at work.
Beyond professional knowledge and experience, we've also invested heavily in equipment. This means that we can comfortable undertake and successful accomplish any house painting projects. This explains why our clientele is based across the corporate and individual levels.
Our range of services includes:
Painting and maintenance of bathroom walls, kitchen ceilings, floors, stores etc. in residential and commercials buildings.
Epoxy floors
Faux painting
Line marking
Our Oatley painters are ready to put a perfect touch in your painting project. Our quality services coming from highly professional painters are unparalleled in the market. Call us today and find out more about our services.