Painters Mortdale NSW – Call Us Now and Get a Free Quote
If you really know what painting means to your building, be it commercial or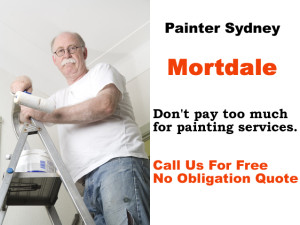 otherwise, then you cannot waste your time working with amateurs or people whose past assignments are nothing but poor. Now Mortdale painters have not only been tried, tested and proven professionals, but we also pride ourselves of overwhelming client satisfaction spanning several decades.
The foremost reason why we take our work seriously and do it meticulously is because we understand that a painting project can be a very demanding undertaking on the side of the client such that a shoddy job that would call for re-do can be heartbreaking to say the least. Therefore, we always put our professionalism, creativity and trust in any project we are working on. Our painters in Mortdale are licensed practitioners and duly qualified by the industry standard. We also have workers' insurance cover that protects our painters against the accidents and injuries at work.
If your painting project involves a sectional work on a building or house, we can guarantee you that our professionals would do it without causing any damages to furniture or the other décor there in.
Our painting projects take into consideration a lot of other things that would eventually add the desired value to the painted surfaces. We know how funny some paints in the market can be that they peel off just as soon as they are applied on the walls or roofs, especially in those areas exposed to adverse environmental conditions. In this regard, we advise our clients on the benefits of using other materials that guarantee quality and longevity. It's only this way that we have made a name for ourselves as trustworthy painters.
Some of our painting and decor services include
Exterior and interior paintings of all residential and business buildings
Wall or surface protection against corrosive substances
Dec painting
Repaint of walls, ceiling and floor surfaces
If you would like to have some fine finishing done on your newly constructed house, or if you are looking for a repaint of any surface in your renovated building, contact us today for a quotation and you will love working with Mortdale painters.