Painters Monterey NSW – Call Us Now and Get a Free Quote
Our painters in Monterey are certified industry experts known for top notch services. We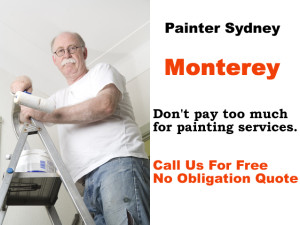 handle all forms of painting services for corporate and individuals. It actually doesn't matter whether it's a newly constructed business centre, or a factory or simply a renovated family house. What matters to us at the end of the day is your satisfaction.
Customer satisfaction takes centre stage in all our projects, and we would not be talking about several decades of service if we didn't take it seriously. We know that when you ask a painter to help you with the painting work, you are not inviting trouble or non-ending excuses and drama that would make a project drag on unnecessarily. Now, if such are what you have had with other painters, its now time to breathe a sign of relief as you work with Monterey painters. We want you to join the ranks or our high satisfied clients who keep coming back to us with new projects.

As professional painters, you will love to work with us because of these things:
We are professionals in this field and we hold verifiable credentials and work portfolio.
Our rates and quite affordable and can be customised for every unique situation.
Our painters and fully covered by insurance against accidental incidents that may occur at a work place.
Above all, we are trustworthy painters whose reputation spans decades. This trust is built through our ability to start and complete projects on time.
Being well groomed painters, we understand virtually everything about paints and we give our clients the best of advice they can ever need when they ask for it.
We offer a wide range of painting and basic repair services such as:
Interior and exterior wall painting in schools, factories and other residential and commercial buildings
Repainting and decoration of offices and fencing walls
Interior decoration of studios and stores
Line markings
We are available for you any moment you need our services, therefore don't hesitate to contact us.