Painters Miranda NSW – Call Us Now and Get a Free Quote
If you have just finished putting up a new building or just renovated a commercial or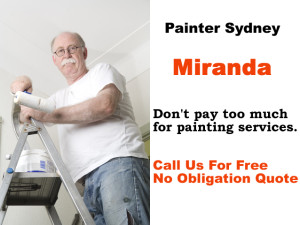 family house, consider having Miranda painters in giving it that final and vital touch. Our painters in Miranda  are regarded as industry's best of all times, with splendid achievements to our name even in the most challenging projects.
As we take up any painting assignment, two important things are always dear to us and we can never fail to share that with you; it is quality and durability. Now, this is our business secret. With experience spanning several decades, we've nurtured the art of mixing professionalism and creativity, what to some other painters sounds like a foreign language.
With every coat that we apply on the surface, longevity and attraction keep our brushes moving back and forth. This now explains why our customer testimonies have been nothing short of glowing tribute. The mark of our work stands tall in boutiques, stores, rehearsal studios, hospitals, warehouses and schools, just to mention a few.
All Miranda painters are duly qualified as per the industry regulations and are thus licensed to ply their trade. More importantly, given our desire for smooth operation whenever we embark on any painting work, our painters are covered by insurance against injuries or accidents that may arise at the work place. What does this mean? It simply implies that our clients are set free from any liability arising from these incidents.
Our range of services include
Domestic painting services – removal of wall or surface stickers, floor, ceiling and wall decorations. Installation of wallpaper. Our domestic services are available for new and old houses.
Commercial – whether private or government project, we do all paintings and decorations that conform to the regulation standards. You can expect superior line marking and drywall repairs among many others
Besides the actual job, we also offer professional advice to clients in need of the same.
We are here to serve and if you are looking for the best and professional painting service, Miranda painters are just a mouse click or phone call away. In fact, this could be the opportunity to give top quality outlook to your newly constructed or recently renovated structure.