Painters Menai NSW – Call Us Now and Get a Free Quote
No matter the size of your painting project, it's always good to have it done by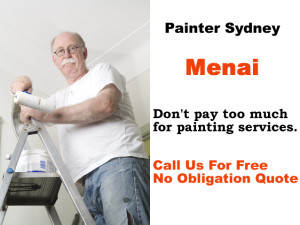 qualified hands, and our Menai painters meet the bill in this. Whether you are painting a new building or just offering a re-paint to a renovated family house or commercial building, we are always here to give you the best in painting services.
There are numerous reasons why we are ahead of our competitors.  While other painters in this industry put hype in what they think they can do, for us we look back at our accomplishments and tell our clients to see for themselves what we are capable of doing. Over the years, Menai painters have provided unrivalled painting services to institutions, government organisations and individuals, all of which have and continue to pour glowing testimonies to our work.
Working with us comes as a multi-prong benefit; you have access to swift and free project quotation, you have access to the best services at affordable rates, you have experienced and professional hands working for you and you have insured painters in your project. You can hardly get such package anywhere else.
Now, beyond these, we also offer sound advice regarding the best painting materials and brands to use.  This is something that our clients have always appreciated. They've not only realized how to cut cost in their projects, but the durability of the work makes them see the reason to trust in our service.
Our Menai painting services include these and more:
Painting of new and old buildings, offices and shops
Regular maintenance painting on surfaces prone to adverse environments
Markings
Drywall repair
Wallpaper installation
Removal of surface stickers
Exterior and interior decorations
Despite our highly professional services, we provide very much affordable rates to our clients. As such, you are always assured of getting the best service for less. Call us any time for a free quotation or to order our service because as you already know, you are the reason we are here.