Painters Manly NSW – Call Us Now and Get a Free Quote
Your search for good painting services in Manly is over now because our Manly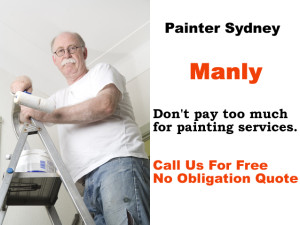 painters are providing the best painting and renovation services in the area at very affordable prices. Manly painters are renowned and established name in the field of painting and renovation services.
Our painting services in Manly are loved by everyone because we offer quality services. Our professional painters equipped with full qualification, experience in the field of painting and renovation services and every professional painter has the experience of minimum 3 years and above. We employ the latest technology in painting because it will give speed to our work with quality. In every project, Manly painters will assign you project manager who will give you guidance related to quality and cost of your painting project.
Some of the services offered by Manly painters are:
1)      Residential – We provide painting services to residential complexes. We will do the project with utmost care so that the life span of the building would be extended. We use high quality paint at reasonable cost. Residential include houses, apartments, flats and societies.
2)      Commercial – We provide painting services to commercial properties. Commercial properties can be shops, offices, malls, companies and industries. We have done many big projects for many companies in Manly area.
We operate around the clock to accommodate clients with different working schedules. Manly painters' customer care officers will call you back and give you all information about the commencement of painting project with details of cost and paint to be used in the painting.
Manly painters are available to offer you the best painting and decorating work in Manly. We are your choice of painters in terms of quality and price. Our team of professionals works hard to ensure that you get the best value for your money. Do not wait until last minute; call us now so that we can have ample time of planning on your project.