Painters Hurstville Grove NSW – Call Us Now and Get a Free Quote
How friendly is your house?  Is it conducive and worth living in?  You may have done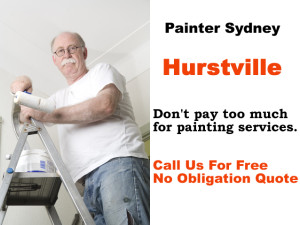 every other thing to beautify your house but without painting it, you will never feel at home therein.  Improve your house; make it habitable by having the right painting job done both inside and outside.  Our  painters in Hurstville Grove will offer the best services to you.  We have skilled painters who have over ten years experience and as the saying goes, "experience is the best teacher", you can imagine how good our services are!!
If you reside in Hurstville Grove, you have no business looking for painters from elsewhere; we have experts who will meet your panting needs.  We offer quality painting services within a short time at pocket friendly prices.  Give us a chance to bring back warmth in your house.
We offer our services in small scale and large scale to all ranges of clients; at home, institutions, business organizations and government agencies.  These services include:
Painting both new and old houses
Texture coating
Spray painting
Interior and exterior painting
Drywall repair
Wallpaper installation and removal
Power washing
Epoxy floors
Spray painting
Trim installation
Deck staining/painting
Faux painting
Line marking
Our Hurstville Grove painters are always available any time.  We are just a phone call away and respond to your calls immediately.  Do you have any questions about paints?  Feel free to contact us.  We offer consultation services to any person regardless of who you are, what you do and where you come from.
Hurstville Grove painters have an interest in satisfying our customers' needs.  We use modern technology in getting the colors right.  Your color choice is not an issue, just give it to us and we ensure it comes out exactly as you want it.