Painters Grays Point NSW – Call Us Now and Get a Free Quote
If you are looking for the best painters in Grays Point then you should settle for our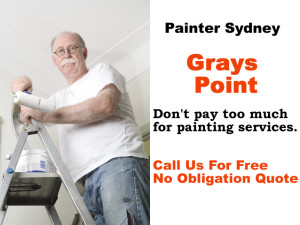 Grays Point painters. These are the best and most reliable painters that you can rely on in giving your residential and commercial building the best painting and decoration colors. Our painters are actually licensed and insured in offering the nothing but the best painting results in and around this area.
Our Grays Point painters are the most experienced painters with several years of experience in providing you with the desired painting results. The fact that we are licensed and insured in offering these services guarantees you of secure and safe projects. Our painters are also trained to remove the debris that comes with painting or decorating jobs in an environmentally clean manner that will leave your property impeccably clean.
We not only ensure that your work is done perfectly but within the stipulated time frame. This is possible because we have painters who work in night shifts and over the weekend, all in an effort to deliver in a timely manner.
We pride ourselves for offering services to a diverse base of clientele that keeps coming back for repeat business. The kind of working relationship that we have created with our clients and prospective customers is a clear indication that we are actually the best in the painting industry. Some of the many services that we deliver include:
Interior and exterior painting for your residential and commercial buildings.
Drywall and water damage repair
Wallpaper installation and additional services such as light carpentry and epoxy floors.
We also offer spray painting, trim installations and deck painting.
These are just but a few of our specialized services. If you want to get the best professional painting services call us today and our experts will guide you through our amazing quotations and services for free.