Painters Forest Ville NSW – Call Us Now and Get a Free Quote
Forest Ville painters are the excellent painting and renovation services providers you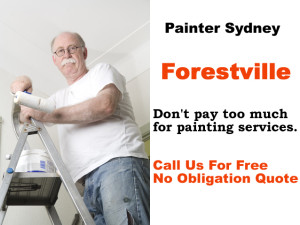 can ever find. We have established a good reputation in Forest Ville when it comes to paint. We will give you the best services in painting and renovation. We are licensed painters and our professional contractors have the experience of minimum 5 years and above. We are fully insured painters and whatever we do for you will be fully insured. Our painters in Forest Ville care for everyone's safety and we will take care of material to be used for your building and house.
Forest Ville painters give painting services to the following:
1)      Commercial Painters – We provide painting services to commercial buildings like stores, warehouses, bars, clubs, banks, schools and colleges.
2)      Residential Painters – If you are looking for residential painters call us because we will give you best service in residential building at an economical price. We offer quality and affordable house painting services in Forest Ville. We give painting and maintenance services in houses, single-storey home, duplex, apartment or any other residential building. We will surely deliver the type of painting craftsmanship as per your requirement.
3)      Interior Painters – We also provide interior painting services which are difficult as compared to external painting. Interior painting should be done by professionals and who have years of experience in the field of interior painting.
Please feel free to call our Forest Ville painters for price quote and any general query related to renovation and painting services. Our executives will come to your house and tell you all the details related to starting the painting services for your building and we will set the suitable time as per your requirement for renovation and painting services. So do not wait anymore, hire us for your painting work at your home or in the business enterprise.