Painters Dee Why NSW – Call Us Now and Get a Free Quote
Dee Why painters provide professional painting services in Dee Why. We are the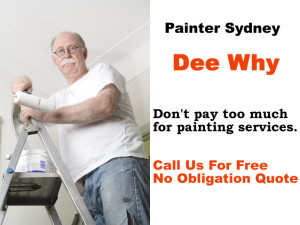 best provider of painting and renovation services. We have achieved the name of best painting service providers through our quality and customer satisfaction. We are professionals in the field of painting services and we are technically equipped in painting and renovation. We use the latest technology for painting and renovation. Because of this technology, we are able to deliver the painting services at high speed, good quality and at very low cost. Customers are very happy and fully satisfied with our services.
Today, nobody has the time to wait for anything and that is why we complete the painting services at a very high speed with good quality and because of our reliability services, we are recommended by our customers everywhere.
Dee Why painters are providing services of high quality in the area and we are available 24 hours a day.
Specification of our services:-
1)      We provide services in residential properties, houses complex, leased houses and flats.
2)      We provide best painting services in companies, government properties, offices, shopping malls and any other commercial property.
3)      We provide painting and renovation services in hospitals, healthcare institutions, schools and colleges.
Don't waste your precious time thinking about the best painters in town; Dee Why painters offer high quality services at very affordable prices. Call our painters from Dee Why  and our services will be available at your doorstep. We will give you every detail about our services planning.  Before starting any work we plan the work and discuss it with our clients. We will also tell you the material we are going to use. Our goal is client satisfaction and we are giving full details about our services. We guarantee you that you will be fully satisfied with our interior and exterior painting services and definitely recommend to others.