Painters Como NSW – Call Us Now and Get a Free Quote
Our painters in Como are the perfect choice of painters that can guarantee you the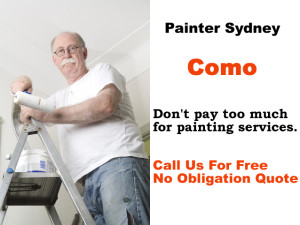 best painting services. In fact, according to most testimonials and reviews from our previous customers, our painters will always go beyond your expectations.
Our Como skilled painters are always the best and most reliable in terms of offering a wide range of painting options. In the painting world, our services are well associated with absolute perfection. This is because we offer painting services passionately with the interests of our customers being kept as top priority. Our skilled painters are not only knowledgeable but experienced in delivering the best decorating and painting services. Our firm prides itself with delivering outstanding painting services, top-notch reliability and a level of trustworthiness that can't be compared to that of any other painting company in Como. Our painters have been offering a wide range of painting services to a vast array of clientele for decades hence making us one of the most established painting companies in and around this area.
Our Como painters offer the following painting and decoration services:
Domestic painting – Como painters are very skilled in ensuring that painting new homes and renovating or maintaining old building structures is not a mystery anymore. Our painters can comfortably turn around the look of both your house's interior and exterior within no time. Our skilled professionals are also capable of delivering amazing services like water damage repair, caulking and faux finish.
Commercial painting – we have numerous existing client who can attest to the fact that we are simply the best in offering painting services for commercial buildings such as hospitals, schools, ware houses and shopping malls.
Our Como painters' flexibility in the kind of services that they deliver enables them to easily customize a package suitable for a wide range of painting needs. Furthermore, if you want our Como painters who can handle your painting projects even at night or during weekends, you can call us today and review our quotations and services all for free.