Painters Caringbah NSW – Call Us Now and Get a Free Quote
If you are looking for the best and most reliable painters in Caringbah then you have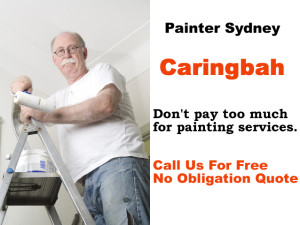 definitely made the right decision. Caringbah painters have been actually proven to be the best in Caringbah due to their increased number of repeat clients and customers, alongside with the positive customer testimonials from our previous clients. Our Caringbah painters basically ensure that all your painting needs have been addressed not only in terms of quality but also affordably.
Our unique painting services as provided by our professional and proficient team of trained painters will always ensure that you get the best until the job is completed and done perfectly. Our Caringbah painters give a dedicated eye for details on all their painting projects. They are always out to ensure that customers are fully satisfied.
The fact that our Caringbah painters are insured means that our clients can relax as they wait for painting job to be done without fear of suffering any kind of liabilities. Moreover our painters can comfortably accomplish all the work assigned to them without subjecting you to any hassles. This makes us your best partner for all your home and commercial painting and decorating work.
We always endeavor to create a good working relationship for future contracts by doing nothing but the best. We have been able to achieve this by delivering what our clients want at all times.
Our Caringbah Painters' services include:
Residential Painting that covers both new and old houses or houses that just require regular maintenance.
Commercial Painting, which includes painting of offices, warehouses and shops in various shopping centers,
Drywall repair
Power washing
Epoxy floors
Deck staining/painting
Faux painting
Line marking
In other words, if you need any kind of painting services our painters are most willing to give you the best services that just can't be compared to any other.
Our Caringbah painters are skilled, experienced and trustworthy in their service delivery. For the best Caringbah painters call us now to get a free quotation for all our painting services.