Painter Zetland NSW – Call Us Now and Get a Free Quote
Are you in search of a painting company that takes customer satisfaction as the top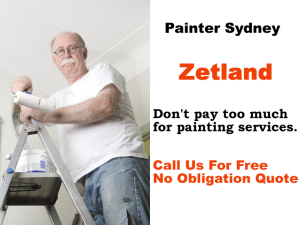 priority? Our friendly painters from Zetland are absolutely the company that you should choose!
Our painters in Zetland are professional painting contractors who can deal with any painting request that clients may have for their homes, offices and other commercial facilities. So whether you need a room painted or a huge commercial place, our painter from Zetland is the one to rely on.
We are a company that guarantees superb craftsmanship through our group of craftsmen who are well trained and experienced in every aspect of painting, decorating and maintenance. The quality of our services makes the number of our repeat clients continually on the rise and we are looking forward tor a higher loyal following. We earned this over the years of excellent service at the most reasonable cost.
Here is a list of our key services:
Residential and commercial painting (exterior/interior)
Lacquer finishing
Drywall repair
Water damage repair
Faux painting
Strata
Epoxy coating
Specialty painting
Sealing
Lead removal
Light carpentry
Our painters in Zetland will finish the project on a timely manner while giving you the top notch quality you want for the best value. We do not only deal with painting requests because we also deliver related services to make sure your place will be in perfect shape.
Painters in Zetland can work day and night to bend according to our lifestyle and clients' time table. We do not want to cause major disruptions so we will do our best to finish the work in the fastest time and the least disturbance.
So, whether you need to paint your home or renovate the entire building, a painter from Zetland is the perfect painting contractor that will put you first before anything else!