Painter Waterloo NSW – Call Us Now and Get a Free Quote
Looking for optimal painting services? Local painters in Waterloo are surely the best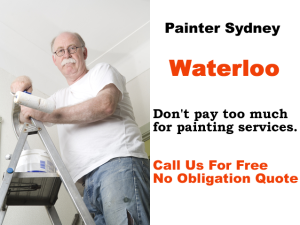 painting contractor around to give you what you want and how you want it!
Our skilled painters in Waterloo is a residential and commercial painting firm that is expert in coating various facilities such as homes, retail shops, offices and many more. We can give you the right treatment that you deserve with our years of experience and expertise in the business. Our aim is to build long lasting bonding with our customers by delivering the kind of service that they would not forget.
Every painting project for our painter in Waterloo is unique and special. Our professional team of experts will exert their best efforts beginning from the preparation until the job is totally completed. We give a keen eye for details and we never consider the job complete until it is perfect.
Waterloo painters' key services include the following:
Exterior and interior coating
Deck painting
Pressure washing
Epoxy coating
Strata
Spray painting
Lead removal
Water damage repair
Wood and drywall repair
Sealing
Carpentry
Our painting firm is the one to rely on when it comes to making your place attractive and more valued. We communicate with our clients effectively all throughout the duration of the project and we are open to any suggestion and remarks.
Our painters are licensed and insured so, our customers can just six and relax while waiting for beautiful outcomes. There is no painting task that we can accomplish making us the best partner of every homeowner and business owners in the area.
Our pricing is also attractive which makes our services very affordable. So, if you are wishing to obtain a fresh look for your place, contact a painter from Waterloo now and avail of the most remarkable painting services at a low cost.