Painter Sydney NSW – Call Us Now and Get a Free Quote
Are you in the hunt for the painting company that can give you a great job with the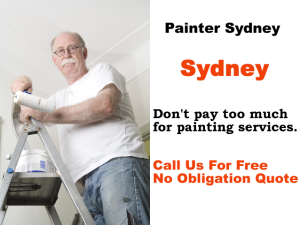 least effort? Painters in Sydney are absolutely the one that can give deliver exactly what you wish for!
Our local painters from Sydney are professional and well established painting firm in the area known for their outstanding painting and decorating services. We our highly knowledgeable of all kinds of surfaces and paints which makes us the right team to handle any painting task. Our knowledge with the painting services for residential and commercial facilities will definitely bring out an exceptional output. Along with such, we are also experienced enough to give the best services possible without even giving it a hard try. Painters from Sydney are simply the best and we can make all things a lot simpler and easier.
Our costing is also something that you will find attractive. Unlike other contractors in the area, our pricing is so competitive, but we do not settle for less. Our painters from Sydney have the reputation of giving quality workmanship that matches every requirement and budget.
Sydney painters are expert in the following services:
Interior and exterior painting
Wood and drywall repair
Wallpapering
Deck staining
Sealing
Pressure Washing
Faux painting
Historic restoration
Lead removal
Water damage repair
Carpentry
We have painters in Sydney that can work 24/7 to match our clients schedule and lifestyle. Our customers are always our priority and we will do our best to give them what they want. We can work at night and even on weekends just to make sure that the job will be finished on time. We try our best not to be a big disruption to any of our clients' activities.
So, if you need the best painting contractor in Sydney, call us today and let our team serve you.