Painter Sutherland NSW – Call Us Now and Get a Free Quote
A painting job, no matter how big or small, would always require time, effort, and of course money. If you are looking to get your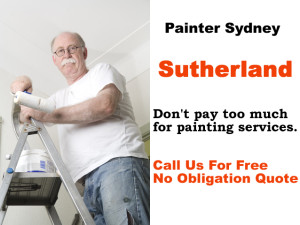 painting project done that is worth all the time, strength and finances put into it, make sure you get a reliable painting partner to do it! Get someone like a painter from Sutherland.
Our painters in Sutherland go beyond giving you a 'great result'; they give you a great and impressive all around painting service. We strive hard to give you the most accurate, most realistic quotations because we want to save you from the stress of surprise fees and expenses halfway through the project. We work hard to arrive at a most possible timetable – we do not want to waste your time on endless waiting and frustrating delays, or leave you with a mess after the project is done.
We and our painters in Sutherland desire nothing more than to see our clients coming home to a happy home, or going to the office and running a business that looks exactly how they envisioned it. We could only guess the depth and amount of hard work you put into achieving your dream home and how much trust you put in our Sutherland painters to achieve the look; and to that, we can only give back with a result that is nothing short of perfect.
All of our painters in Sutherland services are carried out with hard work, dedication, skill, and expertise only true professionals possess:
Residential painting jobs
Commercial painting jobs
Other painting services like fixtures, ceilings, and furniture painting
A painting job is the finishing touch of every design project; it can make or break a design and we want you to know that our painters in Sutherland understand this huge responsibility. Talk to us now, tell us what you want. Call for a free quote.