Painter Randwick NSW – Call Us Now and Get a Free Quote
Are you looking for the strongest painting company in town? Painters in Randwick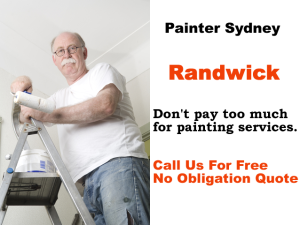 are the toughest people to complete any painting job!
Randwick painters are the leaders when it comes to painting, decorating and maintenance. We are composed of professional painters who have all undergone rigorous training to deliver the best quality of service possible. Their skills are pretty impressive which accounts to their years of experience with diverse clients. There is no painting job that we can say no to because our team can definitely handle all types of painting job no matter what.
The mission of our company is to set the standard when it comes to coating, painting and decorating through its professionalism, knowledge and skills and experience. A skilled painter in Randwick strives hard to deliver quality service on time. We take pride in our work and we are committed to delivering the painting service that will satisfy our clients 100%!
Our painters from Randwick provide services that include the following:
Residential painting on the interiors and the exteriors. We paint new homes and repaint old homes covering any room and elements such as the floors, ceilings and inner walls. We even perform decorative finishes, home inspection and maintenance and basic carpentry services. Our team of professional painters repair paint damages and more so they are the perfect people to beautify your home.
Commercial painting services such as Epoxy, spray painting and strata. We paint commercial buildings such as shopping malls, condominiums, corporate offices and many more.
Our painters in Randwick also deal with any local painting and decorating services such as wallpaper, drywall, faux painting etc.
We are a serious company that can work day and night and even on weekends to meet deadlines and adjust to your lifestyle and certain conditions. Call a painter in Randwick now and see how you will get the best painting service!