Painter Paddington NSW – Call Us Now and Get a Free Quote
Are you looking for a painting company with solid reputation? Our Paddington local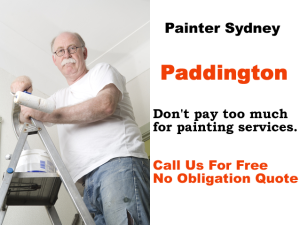 painters are here to take on any painting challenge!
Painters from Paddington are known for their good name. It employs a huge group of painting professionals who go the expertise and knowledge to face even the most difficult tasks. We are very keen to details and conscious about the environment. So, if you are in need of a professional painting service company that will do the job right at first attempt, Paddington painters is definitely your choice!
We make an extended effort that is beyond any painting company can deliver. We provide top quality craftsmanship, punctual service and affordable pricing. We understand how important is our clients' budget so we ensure that we will be able to provide the best value for their money.
Our painters in Paddington can deliver the following services:
Domestic painting covering the exterior and interior of private houses, apartments and other residential units. We also do water damage repair, caulking and basic carpentry services.
We also offer commercial services such as strata, Epoxy, spray painting as well as small and huge painting projects for commercial purposes. Our painters in Paddington can paint offices, churches, schools, condominiums, real estate properties and much more
Our painting professionals also deal with faux painting, texture painting and any local painting services that you may request of
Our painters are very professional and can deal with every painting job with high level of confidence. They have undergone extensive training and have ample years of painting experience to face even the toughest painting job.
We only employ licensed painters to keep up with quality standards and our company is insured which eliminates all your worries. Call a painter in Paddington now and get prompt assistance to any concerns and we are always glad to be at your service.