Painter Matraville NSW – Call Us Now and Get a Free Quote
Who says professional and expert painters in Matraville are hard to find? We got all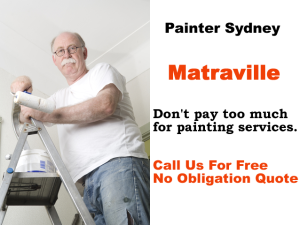 the best painters for you so there's no need to look for another!
Our Matraville painters are the trusted professionals in the painting industry that can deliver the most satisfying job to residential and commercial clients. We provide services to just about anyone within the area. We've got the team of expert painters who can accomplish all these. They are skilled, highly trained and has the license to perform the painting services that you need. Do not settle for anything less because the painters in Matraville are the best ones that you can find.
Our painters and staffs are not only knowledgeable with painting and paint products. They are also productive in maintenance, improvements and other carpentry services. Thus, you can get the most with the money that you pay. We work hard to give the best value to our clients and this is the reason why we are very well known and trusted today.
Our painting services are pretty impressive which includes:
Domestic painting service which covers painting of the interior and exterior as well as other home areas such as decks as well as home fixtures like cabinets. We also repair the water damage on your walls, ceilings and other related services.
Commercial painting services such as warehouse painting, strata, Epoxy, spray painting and painting of commercial markets such as schools, condominiums, complexes, shopping malls, corporate centers and much more.
With our painters in Matraville, customers are always the first priority and we will always ensure that 100% satisfaction is experienced by our clients. We can provide top quality and customized service that perfected at first try.
If you want to have an idea of our pricing, go to our website or call us now and request a free quote.