Painter Macquarie Park NSW – Call Us Now and Get a Free Quote
Customer satisfaction is achieved by a perfect mixture of skill and customer satisfaction. It can hardly be achieved when one is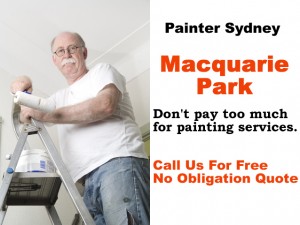 missing. For a client can never be happy with a friendly contractor on a bad job, and a client can only sigh and be half-hearted on a well-made project laden with dishonesty, surprise fees and hidden charges. Customer satisfaction is meeting the client in the eye, knowing what they want, and getting it to them in the best, most convenient manner possible. Ask our painters in Macquarie Park, they know perfectly well how to achieve it.
Our painters in Macquarie Park have been known for delivering customer satisfaction in their every project. Theirs is one perfect combination of excellence, experience, stability, customer relations, and professionalism. Their projects past and present can speak of their excellence in doing various painting jobs. Each of our painter Macquarie Park team members holds at least five years of experience on the job before becoming part of the crew.
The company has been there long enough to know and understand how the system works, and what works and what doesn't. And best of all, our expert painters in Macquarie Park can only so much boast of honest business dealings – of accurate and realistic timetables, upfront quotations without the hassles of surprise fees and hidden charges, and service all the way to cleaning up and making sure the space is ready for use after working.
They treat every project equally, no matter the size or cost of the project, be it:
Residential painting project – apartments, condominiums, dormitories, villas, mansions, cabins
Commercial painting project – restaurants, schools, churches, storefronts, warehouses
For optimum customer satisfaction, trust only the company that exudes excellence, experience, stability and professionalism that puts the customer above all else. Trust our professional painters in Macquarie. Get a free quote now!