Painter Lidcombe NSW – Call Us Now and Get a Free Quote
It takes a good painting contractor to get the job done. It takes a great contractor to complete the job and build a happy relationship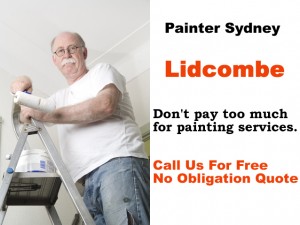 with the customer. Our painters in Lidcombe are both.
Our painters in Lidcombe are a team of expert professionals who are licensed and experienced in various fields of painting. They have had their share of working for various clients with various needs and wants – all of them were left with perfectly painted spaces and happy faces. Our expert team boasts of not only their adept skill in different painting structures and projects, but as well with their degree of professionalism and impeccable customer service.
There is not one moment in the whole painting process that our painter in Lidcombe was not there. They sit with the clients in the planning stage – providing upfront and accurate quotes, setting up realistic timetables, discussing the best means and methods to use on the project, talking about which materials would perfectly fit the design and even plan on the best time to do the project. They work promptly and deliver accurate results. They fix up the place afterwards – something you can hardly find other contractors do.
That is exactly the reason why our painters from Lidcombe are the trusted painting contractors of designers, architects, builders, and home and business owners for their painting needs on:
Commercial painting services – painting retail stores, warehouses, showrooms, industrial spaces, schools, churches, libraries, hospitals, restaurants, bars, cafes, studios, workshops, garage, etc
Residential painting services – villas, rooms, apartments, houses, vacation houses, nurseries, dormitories, cabins, etc
Other painting services – wallpaper stripping, lacquer spraying, furniture and fixture painting and repainting, etc
It takes the best contractor to see over a project, hands on, from start to finish and build a good customer relationship along the way. It takes a contractor like our painter from Lidcombe to achieve this. Call them now for a free quote!