Painter Lidcombe North NSW – Call Us Now and Get a Free Quote
A design is almost always never complete without a painting job. But a bad and so-so painting job is worse than not having colored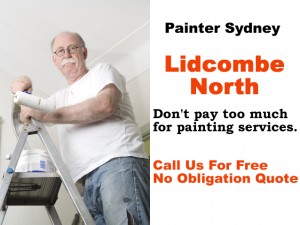 walls and floors and ceilings at all! On top of it being such a waste of time, money and effort are also thrown completely down the drain. That is why it is very important to get the right people to do the job – people like our painters in Lidcombe North team.
Our painters in Lidcombe North hold the reputation of being the best, most reliable painters in the area. They have done countless excellent painting projects in and around Lidcombe North. Thanks to an impressive customer service practice, professionalism, and undeniable skills and knowledge, they are the people to get the job done.
The painter from Lidcombe North never tires of communication, careful planning and consulting with each of their clients knowing full well how vital this step is in achieving perfection and full customer satisfaction. The main goal of each member of our professional painting crew is to deliver a job that meets their own high standards on quality and the personal desires of the business or home owner. They strive hard to meet their clients' every need and every demand and deliver the job with the least inconvenience on their clients possible. That's the reason why they are more than willing to accept and arrange special schedules for their projects on:
Residential painting services – the painters in Lidcombe North team work to maintain order for the rest of the house and keep the level of disturbance on the project minimal
Commercial painting services – need to keep the business running during the day? Our painters in Lidcombe North could work at night or after hours on your retail store, studio, showroom, workshop etc so business operations are not interrupted by ongoing work
Get the perfect painting finish for your home or business. Never settle for a so-so painting job. Call our painter from Lidcombe North now and know what they can do for your next painting project.