Painter Leichhardt NSW – Call Us Now and Get a Free Quote
Are you in search of a painting company that can guarantee the best craftsmanship?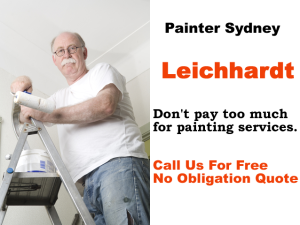 Painters from  Leichhardt will absolutely be the one!
These professional painters in Leichhardt comprise a premier painting firm that can deliver the best application and workmanship over the rest of other companies out there. We have stayed this long in the business with the support of our clients who keep coming back to us as well as our new customers who just discovered our unparalleled painting and decorating services. Our customers are our boss so we deliver them high quality work to make them 100% pleased after the completion of each job request.
We cater to commercial and residential clients which mean that we never refuse a request no matter how huge or small the project is. We even provide additional services aside from painting and repainting jobs. Leichhasrdt painters offer a one stop painting service firm that can fix everything in a single round.
Our painter from Leichhardt offers the following services:
Commercial and residential painting/repainting
Floor epoxy
Pressure washing
Water damage repair
Lead removal
Masonry repair
Basic carpentry
Wood and drywall repair
Lacquer finishing
Deck staining
Faux and texture painting
Spray painting
Cabinet restoration
Our painters are not only skilled and trained; they are also licensed and insured so you will be relieved of all the worries. Our clients can attest to the quality of work that our handymen can deliver. We are a company known for unparalleled craftsmanship and we keep on working hard to keep our promise to our valued clients.
If you want painters in Leichhardt that can work at night and during weekends, call a painter from Leichhardt today and let us know how we can help you out with your painting project. We certainly have the perfect solution just for you!