Painter Kingsford NSW – Call Us Now and Get a Free Quote
Need some quality painting service?  At Kingsford, our painters will make your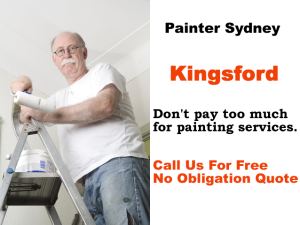 wishes possible with our excellent painting and decorating services!
Our painters in Kingsford are reputable when it comes to painting houses, commercial buildings and almost all types of services. We pride ourselves with the class of our services and the price associated with it. We only employ professional and highly skilled painters to eliminate all the stress away while ensuring the best quality.
Kingsford painters will do the task right so there is no need to worry and deal with tedious preparation as we got everything covered. From the initial preparation up to choosing the right shade and brand of paint until the job has been completed, you can totally rely on our painter in Kingsford.
Our Kingsford painter services include the following:
Residential painting that brings freshness to your home with just a swish of a paint brush. Our painters in Kingsford are experts in painting the interior and exterior of your house as well as other elements such as your cabinets, deck and much more.
Commercial painting services that make use of strata, Epoxy, spray painting techniques and many others. We paint commercial buildings such as universities, churches, offices and similar establishments.
At Kingsford, our painters can assure you that we will deliver top quality painting service at a fair cost. Do not hesitate to give us a call or feel free to visit our website to get hold of a free estimate. Our representative will be more than glad to help you with all painting and decorating concerns.
All our painters in Kingsford are licensed and highly trained. They also have the most extensive experience when it comes to the different types of painting job. We are also an insured company so any accident during the painting process will not be your liability.
Call us now and see how we can help you with our paints and tools!