Painter Harris Park NSW – Call Us Now and Get a Free Quote
Do you happen to be on the lookout for painters in Harris Park? We have the best painting service package that comes at a reasonable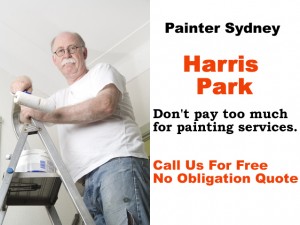 cost.
Harris Park painters are capable of home and office painting services and they are highly prized for their extensive attention to detail and paint finish. Aside from delivering perfect quality for interiors and exteriors, our painters in Harris Park can accomplish the project in just a day. Unlike other painting firms, we do not tolerate delays, so we intend to complete every painting job in a day which, of course, comes at no added fee.
Our painters in Harris Park are a team of masters who are geniuses when it comes to painting. We have enough professional painters to do the job right within the allotted time.
Harris Park painting services include these:
Residential Harris Park painters – We can assist you in choosing the perfect themes and palettes for your home. In making your home look its best, paint is your ally. You can conceal imperfections, vents and numerous flaws and use paint to make everything blend into the surface. We make sure that everything looks its best from start to finish.
Commercial Harris Park painters – We have all the painting services that you need for a commercial environment. We are aware of how different kinds of finish and paint colours can affect the mood of your customers and your employees. If you have no idea as to the best options for you, you can rely on getting sound advice from the professionals that we employ. We also provide out of hours painting services that allows you to continue your business while getting the paint job completed.
A painter in Harris Park is also into miscellaneous painting projects like ceiling repainting and wardrobe retouching.
If you ever see the need to hire proficient painters in Harris Park, just get in touch.  We'd love the chance to work with you in beautifying your home or your office.