Painter Greenacre NSW – Call Us Now and Get a Free Quote
Is your search for dependable painters in Greenacre making you feel hopeless? There's no need to cringe at the thought of hiring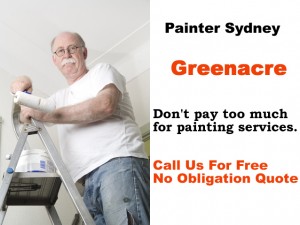 painters with questionable credentials because our painting services company can give any surface the magic that it needs to fit your expectations.
Our painters in Greenacre are highly qualified professionals who understand paint in every way that counts. When the job entails residential and commercial painting, our paint services providers can help you out by transforming the interior and exterior of your property. Painters in Greenacre are also dependable when it comes to meeting deadlines. We can give a guarantee that no paint job is too big to be completed in a day and we can stand by this promise without asking you to foot extra charges on your bill.
Greenacre painters is a team of certified masters in painting methods and techniques. We also have enough people to ensure that the quality of the results will not be compromised even if the project is completed swiftly.
Greenacre painting services covers:
Residential Greenacre painters – We have colour consultation sessions that can help you select the theme for your home. Where residential painting is concerned, you can rest assured that our painters from Greenacre are proficient in addressing the painting requirements for both interiors and exteriors. With our service, you can say goodbye to eyesores and flaws in your home because we can make it disappear with a few strokes of our paintbrush.
Commercial Greenacre painters –We can plan our painting job to fit into your busy business hours. We offer the full array of painting services for all your commercial needs and you can rest assured that we can complete the painting project without disrupting your business.
Painters from Greenacre can address other painting projects such as painting your base boards, decks and similar fixtures.
When you find yourself in need for dependable painters in Greenacre, there is no need to look further because we can take any kind of painting job! Just call us up and we'd love to serve your needs.