Painter Eastwood NSW – Call Us Now and Get a Free Quote
Do you feel the need to hire painters in Eastwood for a painting job? Where attention to detail and top quality painting is concerned,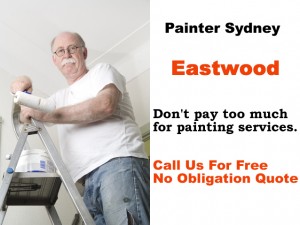 our team of professional painters can readily accept the job and leave you in awe with their painting abilities!
Our painters Eastwood are proficient painting service providers who are veterans when it comes to residential and commercial painting. If you are looking for services that are practical and affordable for the interior or the exterior of your workplace or your office, there is no need to look far since we have everything that you would be looking for in a painting services company. Painters in Eastwood can finish the job within your timeframe and everything is completed without flaw.
Painters from Eastwood are masters when it comes to the paint quality and paint techniques. On top of the abilities of the professionals that we employ, you can expect our swift job completion at no added cost.
Eastwood painting services cover the following:
Residential Eastwood painters – We have experts who can guide you through the best colour combinations for your living space. Whether you wish to apply a fresh coat of paint to your room or hide weather beaten areas in your home, our painters in Eastwood would look after all your needs.
Commercial Eastwood painters – We provide the full array of commercial painting services that you will need. Our professional painters can bring out a vibrant mood in your office. Best of all, we are highly flexible as to working hours. So, you can proceed with business as usual while getting your painting job completed.
Painters in Eastwood also provide more than just commercial and residential painting, we also take over miscellaneous painting stints including ceiling and wall painting.
Hence, if you are in need of Painters in Eastwood, you should not hesitate to call us up! We would love to hear the details of your painting job and awe you with wonderful results.