Painter Drummoyne NSW – Call Us Now and Get a Free Quote
Searching for a company that can fulfill all your painting needs? Our professional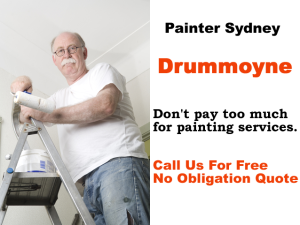 Drummoyne painters are definitely the painting service firm that you are looking for!
Our friendly painters in Drummoyne are the trusted names when it comes to maintaining and transforming residential and commercial properties. We have been providing services to a wide range of clients for many years and we are proud with what we have achieved over the years. Our company has gained the reputation as being the best for our unparalleled craftsmanship, customer service and on site project management.
All our men are highly qualified and have ample years of experience in every aspect of painting, maintenance and decorating. A painter in Drummoyne is also known for being courteous, punctual and conscious for safety. This makes us deliver the best quality work that keeps our clients coming back to us time after time.
Our painters from Drummoyne can offer the following services:
Interior and exterior coating
Residential and commercial painting
Lead removal
Strata
Faux painting
Texture painting
Wood and drywall repair
Lacquer finishing
Water damage repair
Carpentry
Epoxy coating
We can guarantee our work and will not stop until we make all our clients happy with our professional services. We give assistance from planning until the end of every project no matter how big and small. We stay with our clients and we never leave unless they are 100% pleased with the outcomes.
Our nightshift painters are also available to cater to clients with special needs such as business owners. We can even work during weekends to prevent interrupting with any business. We have a very flexible schedule to match the needs of our precious customers.
So, if you need a professional paint a room or the entire business complex, our local painter from Drummoyne will always be at your service!