Painter Denistone NSW – Call Us Now and Get a Free Quote
Why do you have to choose our painter in Denistone? Well, we are the experts in paint and other services making your property more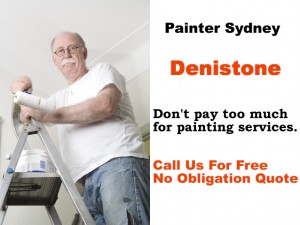 refreshed than ever!
Our painters in Denistone are reliable and professional painting service firm in the area. We are the best company that you should count on if you are looking for quality painting outcomes. Our company has the reputation of producing top quality services, exceptional customer service and competitive rates. We have painters that are licensed, highly experienced and surely have the necessary skills to complete all sorts of painting tasks. We also provide fast service more than any painting companies out there making us one of the most sought after painting contractors in the region.
Our company only utilizes the best brands of paints and materials. We also make sure that our products are safe for the environment and your property. We are known for producing work with long lasting value, but affordable enough to suit anyone's budget.
Our friendly Denistone painters are known for the following services:
Residential painting – Homes will look more refreshed and beautiful with our residential services. We paint and repaint houses and cover the exterior and interior surfaces. Our painters are also skilled in other services like staining or painting decks and refinishing kitchen cabinets.
Commercial painting – Schools, offices, shopping malls, gymnasiums, factories, warehouses and other facilities can rely on professional painters who can do more than just painting and repainting.
We are also skilled in trim molding, wallpapering, power washing, water damage repair, faux painting, texture painting, drywall repair and more.
We are the company that will stay with our clients from start to finish and guarantee fabulous results all the time. So, if you need a professional painting job, contact our painter in Denistone today and get served right away!