Painter Darling Point NSW – Call Us Now For Free Quote
Are you in need of a painter in Darling Point that you can trust? You no longer need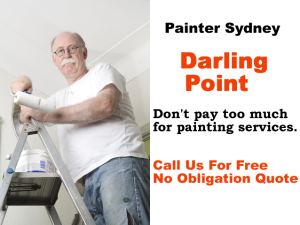 to look further since you are in the right place!
Our painters in Darling Point are the most reliable painting and decorating company in the area. We are proud to say that our services are of high quality and affordable. We are the name to call for any painting and decorative needs for our broad array of services including the following:
Interior and exterior painting of private homes, apartments and other residential abode. The ceilings, floors and other home items are covered by our services and much more like water damage repairs, caulking etc.
Commercial painting like strata, Epoxy, spray painting, painting warehouses, offices, hospitals and other commercial or industrial establishments
Any kind of painting services in the area that requires the knowledge, talents and skills of experts painters in Darling Point
Call us and our team of paint experts can visit the site and send you a comprehensive quote in about 24 hours free of charge. It will include the cost, the type or brand of paint that will be used as well as the number of coats.
Our painter in Darling Point also gives its clients free color consultation to assist you with selecting the brand and shade that you will love. Our prices are negotiable and you can always get the best deal from our painters in Darling Point.
We can start the job immediately and we can agree even to the strictest deadlines. We also have night shift Darling Point painters to do the painting job during non-operating hours to compromise with industrial and commercial clients.
We got everything that you need and want for a painting company so contact us now and see how we can change your world with the right colors.