Painter Daceyville NSW – Call Us Now For Free Quote
Do you want to make a fashion statement with paint? Choose our painter in Daceyville and you will become the talk of the town with our outstanding painting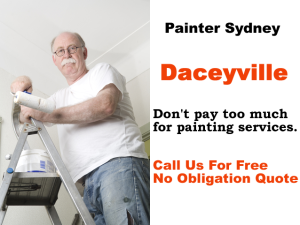 services.
Our painters in Daceyville are the experts when it comes to paint. So, free yourself from all the hassles of do-it-yourself painting and le the professionals do the job for you. Whether you want to modify your color scheme or you want a total change, painters in Daceyville will make things more beautiful for you.
Call us now and our expert team will discuss everything with you from the design, preparation time as well as the paint and techniques that will be used for the job.
Painters in Daceyville offer the following painting services:
Residential painting that deals with painting home exteriors and interiors including not just the bedrooms, but kitchens, bathrooms and almost every corner and fixtures like home cabinets.
Commercial painting of all sorts of facilities such as corporate centers, universities, clinics, shops and many others.
Additional local painting services that may range from texture painting, decorative painting and much more. We also conduct spray painting, Epoxy, water damage repair and other associated services.
Nothing makes the look of a certain area more renewed than a coat of fresh paint. It is the most fulfilling makeover or finish that a home or a building can have. If you are undecided with your choice of colors, our painters in Daceyville will help you choose the right one.
We only make use of the best brand names of paint to give you quality over the rest. You also have tons of shades to choose from and once you made your choice, leave the rest to our professional painters and see how wonderful the results will be.
So, whether you are in need of a small or big painting job, call a painter in Daceyville now to get the best deal possible.