Painters Cromer NSW – Call Us Now and Get a Free Quote
Looking for good quality painting services in Cromer, then contact Cromer painters.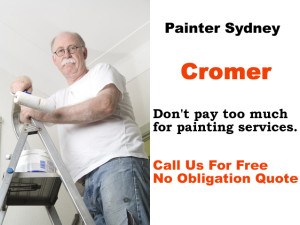 Painters in Cromer are a renowned name in the field of painting services in the area. Our painting is very effective and economic. We have a brand name in Cromer Painters because of our years of service and experience. Our motive is customer satisfaction and our trained staff always makes customers happy through the magnificent work.
We have trained and experienced professionals for painting and decorating services. Our trained staffs have the full knowledge about the latest equipments used in painting. We are using latest equipment for painting because it gives effective painting with durability. We are unique from other companies because we are providing high quality services at economical price. We have done the painting for many large scales to small-scale companies and even have painted houses.
Our services include-
1)      Residential Painting – We are providing painting services to old houses, renovation of buildings, flats and regular maintenance of buildings.
2)      Commercial Painting – We are providing services to companies, offices, shops and any commercial buildings.
3)      Roof Spraying – We are also providing services of roof spraying because roof is very important part of building and it takes more care because it gets affected easily due to rain, sun, wind and bacteria.
Whenever you need services of painting and decorating, call us any time and our staff will be available immediately at your service. We will give you full guidance regarding the painting of your house or any other building. We will give you full cooperation and without your permission, we will not do anything. Our motive is client satisfaction at low cost. So do not think twice and call Cromer painters for painting services. You will not get any complain with our services because we have known name for effectiveness and quality services.