Painter Concord NSW – Call Us Now and Get a Free Quote
Want to book a painting job today? Why not choose our local painter from Concord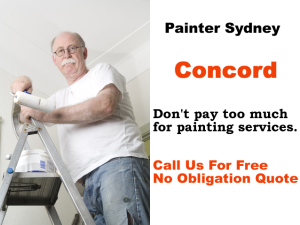 to do the task for you and be 100% satisfied of the results?
Our group of painters from Concord is one of the best painting service companies in the area with an A+ rating. We can paint the smallest room and a massive commercial space. We are highly committed to 100% customer satisfaction so we give our clients our best to achieve our goals. A local painter in Concord will complete any project without delays with the assurance that customers will receive the desired outcomes at the most reasonable price.
We have all the painting, repair and maintenance services under one roof. We do not only offer professional painting services, but our painters in Concord can also handle other requests from our clients to keep any place in perfect condition.
Concord painters' services consist of:
Residential painting – Beautifying the interior and exterior of private houses is never a hard job for our painters in Concord. We can make old and new homes look so fabulous with our high grade paints and materials.
Commercial painting – Our friendly painters in Concord are also experts in handling commercial projects. We cater our services to commercial markets such as condominiums, hotels, restaurants, shopping malls, factories, churches and much more.
Additional services include strata, faux painting, water damage repair, drywood repair, sealing, lead removal, carpentry, epoxy coating and a lot more.
No matter how big or small the projects are, our team of experts will guarantee the best service possible. We always make use of our high grade resources and tools to deliver the best outcomes. We can extend our services 24/7 to accommodate every need.
We are the best painting service firm to handle every painting job so phone us today about your next venture and we will help you without second thoughts.