Painter Cherrybook NSW – Call Us Now and Get a Free Quote
Wondering where to avail of the best painting services? We have local painters in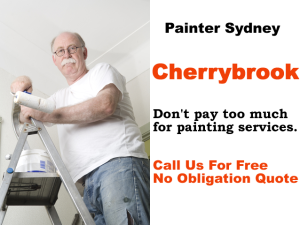 Cherrybook who will show you exactly why they are the best when it comes to paint!
Our painters from Cherrybook are one of the biggest painting service firms in the area. We cover a wide array of services ranging from home painting to all sorts of commercial painting. We take pride with the quality of the work we are capable of providing our clients. We always make sure that our clients are happy with our services by having professionals take on every project. Our painters are well trained and have ample years of experience to handle all types of painting projects. We never say no to any challenge as we are the experts in paint.
A local painter from Cherrybook makes use of the best materials, high grade paints and adopts current painting technologies to ensure each coat will look nice and lasts for long. We do not settle for anything less as it is our goal to deliver the best services at the most affordable prices. Our pricing is competitive enough making our company the top choice among clients.
Our services consist of the following:
Interior and exterior painting
Lacquer finishing
Restoration of cabinets
Texture painting
Faux painting & murals
Deck painting/staining
Strata
Spray painting
Masonry repair
Carpentry
Lead removal
Epoxy floor painting
Wallpaper services
We supervise the job from beginning until completion. We always make sure we are hands on to every painting project. We give the best explanations and updates to keep our clients informed and assured of our services.
Our painters in Cherrybook can also work night shifts and extend their services during weekends. This is to ensure the job will be completed in the most convenient time and least distraction possible. Call our Cheerybook painters now and let the specialists handle your painting project.