Painter Burwood NSW – Call Us Now and Get a Free Quote
Searching for top quality painting services? A local painter from Burwood is here to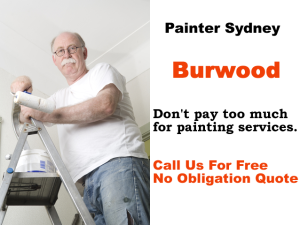 provide you with the most outstanding services!
Our painters from Burwood are premier painting contractors who are known for their remarkable services. We are experts in painting homes, buildings and other structures. We also cater to non painting services to keep your place in perfect shape. We are the company that homeowners, business owners and real estate agents would want for their projects. We are reliable, trustworthy and well established and there is nothing more you can ask for!
Customer satisfaction is our main concern and this is where our reputation was built. Our customers are our treasure and we will never do anything to disappoint them. Our craftsmen are not just friendly; they are highly skilled and experience to take over any type of job.
These are the renowned services from our Burwood painters:
Domestic painting services – Our painters in Burwood can transform an ordinary home to a very lovely home with a fresh coat of paint. We paint home interior and exterior as well as courtyard furniture and kitchen cabinets.
Commercial painting services – We can deal with huge commercial projects such as painting hotels, warehouses, factories, schools, churches, offices and much more.
We can also deliver other services like deck sealing, specialty painting, installation and removal of wallpaper, faux finishing and light carpentry.
Our reputation for being the best in the area is our assurance that choosing us for your project is also the best decision. The quality of our services in unparalleled and we will always arrive on time to make sure the job will be finished in no time.
We are also licensed and insured to make our clients most comfortable and relaxed with our services. Call a painter in Burwood today and get all the information that you need.