Painter Botany NSW – Call Us Now For Free Quote
Do you need someone to paint your home? We have the best painters in Botany to do the job with flying colors!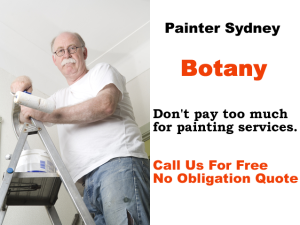 Our Botany painters have developed a unique approach when it comes to delivering painting services giving clients top class work at a reasonable price with the least disruption possible.
We provide our clients with individualized painting solutions. We do not only cater for homes but for commercial facilities as well. We can deliver according to the exact needs of our clients which ensure optimum customer satisfaction.
To get an idea of our services, take a look at this comprehensive list being offered by our painters in Botany:
Internal and external painting of your home and commercial buildings. We take care of the needed maintenance of painting work according to your facility.
We provide special coating services to guard your home or office to several environmental factors
We offer color consultancy with millions of colors to select from to eliminate all the hassle when it comes to paint selection.
We offer all the services that you can think of such as Epoxy, spray painting, faux painting and much more.
We have a team of highly competent professionals to make every dream possible. Our Botany guys have extensive experience and skills to match with it. They are licensed and insured to give the most secured and satisfying painting that you can get.
So, whether you need a professional to paint your home or a competent team to take on a larger painting task, our painters are waiting for your call. It does not matter if it is night or day because we can paint your world at any time.
Give us a call and request a free quote to get an idea of our affordable pricing and avail of the best consultation from our paint experts!