Painter Bondi Junction NSW – Call Us Now and Get a Free Quote
Searching for the best painters in town? Why not let our painters in Bondi Junction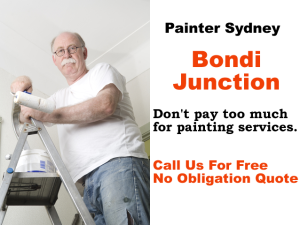 do the job?
Our Bondi Junction skilled painters can absolutely eliminate all the anxiety and stress off when it comes to painting your home, offices and other areas. Our painters are highly trained and have years of experience with what they best so you can totally leave the job to them without worries at all.
So, if you are looking for professional Bondi Junction painters with years of experience, you are surely in the right spot!
Our Bondi Junction painters have extensive knowledge and skills to undertake all sorts of painting tasks. Our painting services include the following:
A painter in Bondi Junction offers home painting which can be for regular maintenance, paint repair or painting new residential properties such as private houses and apartments.
Bondi Junction painters also do commercial services like painting offices, shopping malls, universities, churches and similar infrastructures
Bondi Junction painters offer spray painting, floor painting, texture painting, line marking, Epoxy and much more!
Our Bondi Junction painters can accomplish all kinds of painting projects in the soonest time possible. We also have night shift painters so we do not interrupt with your business hours. We perform our job based on your specific needs and lifestyle.
We are your right partner so call us now and request a free quote and be more amazed! We offer extraordinary services at a reasonable rate. Our painters in Bondi Junction can prove that quality paint and painting services does not have to be expensive.
Our satisfied and loyal clients can prove that our services are world class! With our professional painters, the job can be done right at first attempt as we take our job seriously. Pick up your phone now and get the help of our professional Bondi Junction painters who are always ready for any painting challenge.