Painter Annandale NSW – Call Us Now and Get a Free Quote
Looking for a remarkable painting company? Our painters in Annandale will surely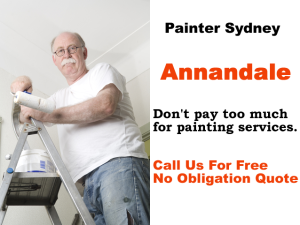 give you that unforgettable service that you are wishing for!
Our skilled painters from Annandale are just few of the painting contractors in the area that has made a great mark in terms of excellent services and competitive pricing. We are the firm that values your business by putting our customers more than anything else. We show our commitment by caring to our clients and this makes us the premier painting services provider in the local area.
The quality of our craftsmanship is really impressive, thanks to the painters in Annandale. Our craftsmen are well experienced and highly trained to undertake any painting job. We do not only offer painting services, but a wide range of related services to give any place a whole new look.
Our renowned services include the following:
Residential painting services – Our painters in Annandale can revitalize private homes with special finishes and fresh paints. We are skilled in painting the interior and exterior of every home and much more.
Commercial painting services – Annandale painters provide exceptional commercial painting services. We take care of commercial and industrial facilities like shopping malls, factories, hotels, condominiums and much more,
We also deliver extra services like specialty painting, lacquer finishing, drywall repair, faux painting, sealing, carpentry and much more.
These painters from Annandale are your choice to complete any painting project with superiority and class. Our services are provided only by skilled experts who have the right training and experience to do the job. We never abandon our clients because it is our commitment to deliver outstanding services from beginning until the completion of the project.
So, if you are in the hunt for quality painting and decorating services at affordable prices, a painter from Annandale is definitely the perfect choice!